About Us
Bioanalytical Laboratory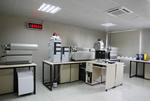 ARGEFAR Bioanalytical Laboratory; has been established with the aim of making analyzes in pharmaceutical research, primarily bioavailability and bioequivalence studies.
Activity Area
Bioavailability and Bioequivalence studies in İzmir single is one of the few institutions in Turkey. Development of methods for determination of drug levels in all kinds of tissues and biological fluids, validation and qualitative / quantitative analyzes are performed in line with international guidelines.
Our Work
The first bioequivalence study was started in May 2005.
As of April 2022, 66 studies have been completed.
Quality Management System
For Our Customers,
Our aim is to offer our services that meet / meet the evolving requirements in the national / international field, always, quickly, accurately, at the most cost-effective, respectful to our confidentiality and agreements, and to provide customer priority, to receive feedback and to minimize any complaints. Openness and trust are essential in relationships.
Our work,
"Good Clinical Practices (IKU) Guide", "Good Laboratory Practices (ILU) Guide" and "TS EN ISO / IEC 17025 tam are in full compliance with the basic requirements of international standards and in accordance with the relevant procedures / methods. Accuracy of results is a priority. In case of any negative results, the whole working system is reviewed and verified, and if necessary, our customers are informed.
Our employees,
"Good Professional Practices" is based on the principles of independence, impartiality and openness with a management approach free from internal / external pressures and conflicts of interest. The importance of their work is explained to our employees and their training takes priority.
Our Quality Management System,
Ensuring the effectiveness of our system that we have established to ensure the quality of our work / results is within the scope of the "Continuous Improvement" objectives and all necessary measures have been taken to prevent the changes to be made affecting the operation of the system.
Our Organization,
It is an organization that continuously develops and develops by sharing information.
As Senior Management,
All kinds of contributions are made in order to develop the Quality Management System ve and reach the defined targets, and all processes are followed and finalized. In order to ensure independence and impartiality; Protection of impartiality against all parties; maintaining independence without being affected by commercial, financial and other external pressures; it is our promise to provide all logistical resources considered / envisaged.
Our Quality Management has been approved by The Misnistry of Health of Turkey, Turkish Medicines & Medical Devices Institution in accordance with The Principles of Good Clinical Practices in Compliance with The Related Legislation (IKU)
As the most important step of bioavailability and bioequivalence studies, "Analytical Method Validation" criteria are applied one-to-one and accuracy is ensured.
Laboratory Infrastructure
In ARGEFAR Bioanalytical Laboratory; Test Materials Acceptance & Cold Archive Unit, Sample Preparation Units, Analytical Studies Unit and Archive Units.

Device Infrastructure
Staff
Within the scope of Bioavailability and Bioequivalence studies, the Company provides services with 4 personnel including 3 Research Operator qualified and competent in analytical working processes.